I just found this link up over at
Sweet Green Tangerine
by reading one of my daily blogs, and thought that the book chat link up was right up my alley. This week is all about those books that we have been wanting to read forever but have yet to, and why. My "to read" list is pretty long, and seems to continue to grow but there are definitely some books I've been wanting to read for quite some time but still haven't gotten to them...
The Books:
Water for Elephants by Sara Gruen
I don't actually own this book yet, but I really do want it. When the movie came out, it looked great, but it took forever before I finally saw it. Once I did, I was in love with it. I know that the book is bound to be better than the movie, since it usually does work that way, so I'm eager to eventually pick up my copy.
The Book Thief by Markus Zusak
I bought this book awhile ago when our Borders was going out of business. It was on sale for a great price and it seemed really interesting. Unfortunately, when I got home with it, I put it on my book shelf which is where it has remained since then. I really do look forward to finally reading it, though.
Extremely Loud & Incredibly Close by Jonathan Safran Foer
I have tried several times to pick up this book and read it, and I really, really want to. I've seen the movie of this one as well and really enjoyed it and had no doubt that the book had to be incredible based on the story line and details. Plus, I always love books that have interesting children as the lead characters (think The Curious Incident of the Dog in the Night-Time). I love the way the author changes up the text to go along with the way the character thinks and really hope I'll eventually be able to get through it.
Never Let Me Go by Kazuo Ishiguro
This is another book that I don't own yet, but I have heard and read a lot about, and it looks very interesting (though slightly depressing). I know that it has a movie as well, but I have decided to avoid watching it until I have read the book since it's such an intense plot line. I'm sure that I will finally pick it up eventually.
Pride and Prejudice by Jane Austen
Believe it or not, I have never read anything by Jane Austen. I know, I know, that's horrible! I pride myself on being such a book lover that I feel like I should have already read most of her works. However, I have read the first couple of pages of this one on my E-reader and already struggled with it. I'm planning to eventually force myself to get through it or one of her others though.
These are only five of many books that I would love to eventually pick up and actually read. I have a number of books on my shelf that I have still yet to read (oops!), but will eventually get to them. What about you? Are there any books you have been meaning to read? Have you read any of these and loved/hated them? Any book suggestions?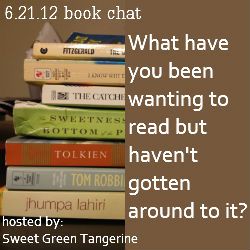 -Tiffany