Friday, January 11, 2013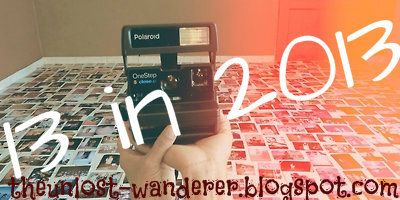 1. Continue to work our at least twice a week. (We got the Nike fitness "game" for the xbox kinect, and so far I am really enjoying it. It's a really good workout, though it will kick your butt!)
2. Find a new job. I guess I should say, find a new school to teach at, since I am keeping the same job. (which also means deciding if I want to move down to elementary school, move up to high school, or stay in middle school)
3. Begin my Master's degree. I have decided to get my Master's in English, so that I can teach college/university level once I have my degree.
4. Work on having a healthier diet. I know that it will still be a bit of time before we think about having kids, but I want to make sure I am healthy when we do make those decisions. I love fruits and vegetables, so I need to start making sure they are a major part of my diet.
5. Finding a new doctor. Enough said, it's just time. I just have to find one that I'm comfortable with, which is never an easy task.
6. Stick with Project Life for the WHOLE year. (I should be getting the seafoam edition anytime now, and then I will be able to start. So excited!)
7. Sew an apron using my new sewing machine. Maybe more than one, and I will use the others for gifts for family/friends.
8. Find new recipes to use, that I can make correctly and actually enjoy. I find we are eating a lot of the same things, so hopefully I can find some new recipes that we both enjoy.
9. FINALLY purchase the Writing Young Adult Fiction for Dummies book, and read and highlight what I need in order to finally begin doing some writing.
10. Look into starting to do some daily yoga on my own to deal with stress. I hear it's a good habit to begin even before you have kids, and that it's a great thing to do during pregnancy, so it seems like it would be a good habit to start now.
11. Cut back on my spending. I don't spend a lot at one time, but I have a habit of going out with my parents every weekend and shopping, and then it starts to add up.
12. Save up money for a honeymoon, and find someplace great that we will both enjoy. And then have a blast!
13. Take chances. If something seems like something I will enjoy, then try it for a change instead of getting scared.
Alright, that's it! Hopefully I can stick to them. I think it's best to make them small and manageable, that way it is possible to finish all 13 in the year. Now it's your turn! Go ahead and create your list and then link up below!

Posted by

TheUnlostWanderer
at 6:39 PM
No comments:

Wednesday, January 2, 2013
It's really hard to believe that another whole year has come and gone. It was definitely one for the books though (literally. I just printed most of our proposal/engagement/wedding pictures, and I think it's going to take longer to scrapbook everything than it took to plan the wedding!). It was definitely a great year, though!
In January I turned twenty-two, and Michael and I started our last semester of college, and were living apart. He was still on campus at school, and I was back home three hours away, living at home with my parents while I did my student teaching.
In May, we both graduated from college. From the same college, on the same day, during the same ceremony. It was wonderful getting to see all of our hard work pay off (even though Michael really did not want to walk the stage). It was an incredible feeling, graduating after four years. The four years went by very fast though!
In June, I had my bridal shower, which was a complete blast. Even though we were still a few months from the wedding, we were moving into an apartment before getting married and wanted everyone to be there without worrying about work (for my teaching friends, which is a lot of them!).
July/August was busy for us. We were out searching for apartments when Michael got the call saying that he had gotten the job that he has now, and we were thrilled. We knew that we would only be able to get an apartment if he got the job. We found one we loved that day. During that time span, I was also given my job, which was very exciting!
The week of the wedding was full of fun activities. I took off Thursday and Friday since I had friends coming into town and things like that. Our rehearsal was on Thursday night, and it went wonderfully, and then I have my bachelorette party Friday, with the wedding being on Sunday. It was all a wonderful whirlwind, a lot of which I can not remember now!
And of course, in December we celebrated our first marriage as a married couple, though it was actually our sixth Christmas together. It was great, between spending time with both of our families, and having time to ourselves. Christmas morning. It makes me excited for traditions to continue in the future.
So, here we are with 2013. Here's hoping for another great year! Happy New Year, everyone! :]
Posted by

TheUnlostWanderer
at 3:42 PM
2 comments: